Alchemist's Mountain
Metroidvania Jam 2 - 7 days left!
---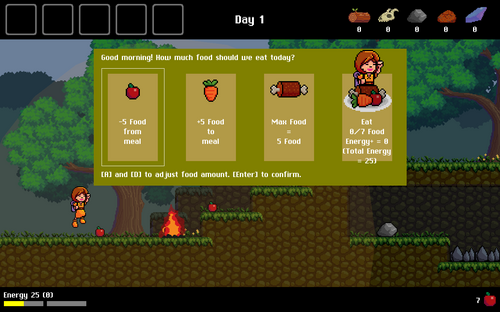 Well. We only have 7 days left. And due to time and resource constraints the question is polish or content?
It seems like we're gonna go with polish. It wasn't the massive Metroidvania I hoped it would be in a month (maybe I was expecting too much), but there is a game and it is quite playable. My greatest wish is that I could watch players stream playing it. Perhaps I'll go to people like YourBrother or Aggressive Combustion on Twitch whom I've made friends with.

Seeing the work of others in this game jam makes me think that I don't stand much chance of winning lol. Since after all, the core of Metroidvanias: visuals, items, exploration - is a very solid core, the Energy System of Alchemy mountain is far more experimental. I could see people hate it, love it, or think not much of it at all. So winning aside that's what I really want to know. Is there a good game here.

Progress so far: I'm really happy with the visuals. I think I've managed to do a mammoth amount of pixel art for this game. It's just about time to start adding in all the stuff to complete things: a loading screen, a story scene, thumbnails etc. I'm really thankful to my sound designer and musician, Ryan and Daniel, for having worked hard to really improve the games atmosphere.

With gameplay we've at least got a solid boss, a couple of items and powerups, and a sprinkling of enemies and hazards. Once I'm done with the complementary art, it'll just be a matter of seeing how much more content we can add before the deadline!
Files
Alchemist's Mountain 2.zip
7 MB
Nov 07, 2018
Alchemist's Mountain html.zip
Play in browser
Nov 07, 2018